Five Guys is one of the newer hamburger chains to get media attention. This Lorton, VA-based chain was named consumers' favorite hamburger chain in the 2017 Harris Poll Brand Report. Like its West Coast rival, In-N-Out Burger, Five Guys has a loyal cult following of customers.
The fast-casual chain serves hamburgers, hot dogs, sandwiches, french fries, and recently, milk shakes. It has over 1,500 restaurants in the U.S., Canada, Europe, the U.K., and the Middle East.
If you're interested in working for this family-owned chain, here is some information on available positions, requirements, and company procedures. Get your Five Guys application noticed by doing your homework!
Company History
Five Guys opened their first restaurant in Arlington County, Virginia in 1986. Jerry and Janie Murrell and their five sons served handcrafted burgers cooked in peanut oil, and the burgers quickly became a hit in the Washington, D.C. area. (The "Five Guys" moniker refers to Jerry and Janie's five sons, Jim, Matt, Chad, Ben, and Tyler.)
Between 1986 and 2001, the company opens five restaurants in the D.C. area and became a local favorite. In 2002, Five Guys opened franchises in Virginia and Maryland. By 2003, franchising opened up to the rest of the country, as well as Europe, the U.K., and the Middle East.
The company's restaurants store its fresh ground beef in coolers instead of freezers, and they still use peanut oil to fry food. Five Guys doesn't do a lot of traditional advertising, but they ensure quality by investing in a secret shopper program.
Ways to Apply
You can apply online through the Five Guys website, or visit one of their restaurants to fill out a Five Guys application in person. Occasionally, Indeed.com and other third-party job sites will feature Five Guys job openings, but by the time you send an online application through one of these sites, the job will probably be filled.
Save time and frustration by going directly to a restaurant or the Five Guys website to apply. https://www.fiveguys.com/en/Careers
Crew Members
Most jobseekers that fill out a Five Guys application are looking for an entry-level position as a crew member.
Crew member duties include:
running the cash register
food preparation
serving customers
prepping the machines and serving areas
cleaning/maintenance of dining room and equipment
A crew member must have a high school diploma, GED, or be a high school student working toward getting their diploma. A year or two of retail or food service experience is a plus, but it is not required.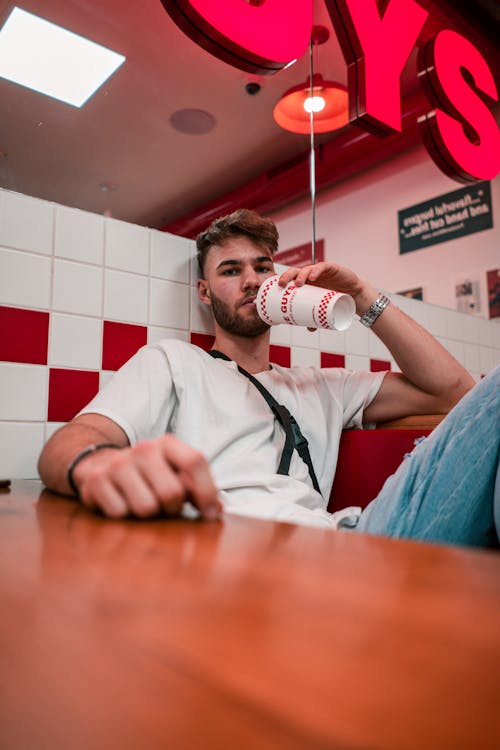 Cashier
Some Five Guys franchises hire part-time cashiers to run the register during lunch or other high-traffic times. These cashier positions do not require applicants to have managerial or food preparation experience.
Onsite Management Positions
There are several positions you can apply for on-site.
Shift Lead
A shift lead is responsible for assigning and supervising the crew during their shift. Shift leads oversee:
food preparation
customer service
cashiering
cleaning
maintenance
inventory
financial management
You should be available for any shift unless a specific shift is mentioned in the ad you answer.
You must be at least 18 years old to be a shift lead and have a high school diploma. Some college or trade school is a plus. Shift leads must have one or two years' experience in food service, and a year or two in a leadership role in any industry or volunteer position.
A ServSafe certification will boost your chances of being considered for this position.
General Manager
A Five Guys General Manager is expected to oversee all aspects of daily operation for the restaurant including:
food preparation
customer service
financial accountability
recruiting, hiring, training, and terminating employees
cleaning and maintaining restaurant equipment
inventory management
participation in local and national marketing campaigns
No special training is required for this position, but applicants must have a high school diploma and two to four years of experience as a retail or restaurant supervisor. Excellent math, reasoning, and computer skills are necessary.
Many Five Guys franchises hire managers from within the company, so it is possible to work your way up from crew member to General Manager if your work hard enough.
Assistant Manager
A Five Guys assistant manager helps the GM run the restaurant. They assist in:
interviewing, hiring, training, and scheduling employees
ordering supplies
cleaning and maintenance of equipment
customer service.
An assistant manager also performs all Crew Member tasks when needed, including:
cashier
food preparation
front-line coordinator/runner
dining room attendant
The assistant manager assumes responsibility for daily restaurant operation when the general manager is absent.
An assistant manager must have a high school diploma or GED, and one or two years of food service or retail supervisory experience.
District Manager
Five Guys district managers oversee restaurants in a particular county, town, or city. They are responsible for reviewing the profitability, marketing and overall operation of each restaurant and recommending changes to management if necessary.
Contact the Lofton, VA corporate office or a restaurant business recruiter if you want to apply for a district manager job at Five Guys. Better yet, apply for a shift leader or General Manger job and work your way up to District Manager.
General Requirements
All employees working in a restaurant, including crew members and managers, must be able to stand on hard surfaces in warm, noisy surroundings for long periods, lift supplies, and materials throughout the day, and work around hot oil and equipment.
Five Guys participates in the E-Verify program, which checks potential employees to make sure they are legal residents of the United States.
Corporate Office Positions
Unlike many other fast food and fast-casual chains, there's no information about corporate office positions on the Five Guys website. Prepare your resume and talk to a recruiter or contact the company headquarters directly if you are looking for a job in corporate marketing, finance, telecommunications, legal or other professional positions.
Individual franchise owners may also be looking for finance and marketing professionals, since one franchise group may own several restaurants in a city or county.
Five Guys University
All new employees train with Five Guys University online, in-store, or both. FGU was founded in the late 2000s to offer courses online operations, customer service and food preparation. There are over 30 courses available, and some of them are advanced classes geared to management.
Benefits
According to Payscale.com, Five Guys offers 401K plans, paid holidays and vacation and paid sick leave to qualified employees. The company offers a fun atmosphere, flexible schedule, and free or discounted food, according to many employees posting on Glassdoor.com, while others (mostly crew members) complained about short breaks and lack of benefits.
Application Tips
Make a list of all the Five Guys locations where you want to work. You'll need to apply to each one individually; there is no general data "pool" where all of the chain's restaurants look at the same applications.
The job requirements and duties may vary slightly from restaurant to restaurant since franchises have different owners. Always ask a manager for clarification if you don't understand some of the duties or requirements.
If you need a job right away, and the restaurant where you want to work has no openings, most managers will accept applications anyway. The "we're always accepting applications" approach doesn't mean the restaurant has a high turnover rate.
This ongoing application method gives the manager a list of qualified applicants on hand as soon as a spot becomes available. Since management already has applications available, he or she can start interviewing prospects right away.
References and Documentation
Whether you fill out an application in-person or online, gather all your reference and employment information before you start filling out the form to prevent delays or omissions. If you are applying online, make sure you have a steady internet connection avoid getting bumped offline when filling out the form and losing information.
Fast food and fast casual restaurants receive many applications, more than many other types of businesses. You can make your application stand out by filling out all employment, reference, and personal information thoroughly.
A flexible schedule is important for all restaurant workers, so be sure to indicate your availability on the application. If a job ad specifically states, the restaurant needs night shift workers and you can only work one night a week, look for another position with day or weekend work.
Applications with omissions, disconnected phone numbers, or obsolete email addresses may be discarded or not taken seriously by managers.
Online Applications
You may want to print out a job application and fill it out longhand before starting the official online application. Having a completed application in front of you will help you avoid mistakes and prevent you from having to redo sections before applying.
Filling out a paper application beforehand is especially helpful if you are applying for a manager position and have lots of employment and personal references.