To some it may feel like the job market is still constricting, reducing the number of opportunities for work. But data from the U.S. Bureau of Labor Statistics paints an optimistic picture. As of May 2016, unemployment has continued to decline, down to just 4.7% (from 5.7% in 2015 and a staggering drop from 7.9% in 2013).
New industries and technology have led to never-before-seen career opportunities, creating a shift in employment trends. This is particularly evident in how employers are investing more to acquire and retain talent.
We surveyed more than 2,000 individuals on their perception of the job search process and combined that information with data and industry insight to provide a detailed look at how the job market is changing. Keep reading for trends in job search methods, generational barriers, and views on education.
How Many Years Would You Last at a New Job?
For older Gen Xers and Boomers, stability and job security have been important. It was about finding a job and sticking to it – regardless of the job's likeability – so that a person could provide for his or her family and plan for retirement. Previous generations have been encouraged to stay put and climb the ladder to success.
That's changed dramatically with Millennials, where 41% would expect to remain at a job for 2 years or less – compared with 17% of Gen Xers (and just 10% of Baby Boomers). For Millennials, it's more about career exploration than climbing the traditional ladder according to a study from Bentley University. It has become societally and culturally OK to explore.
Many Millennials want to do something relevant; they want to find something that matters. They are often driven by a strong desire to feel like they're part of something bigger than just the job they do. According to the same research from Bentley, 85% of Millennials want to work for a socially responsible or ethical company and 91% say a company's social impact efforts are important when they're considering which company to work for.
Is It Hard to Land a Job After College?
A lot of Millennials look back on the Baby Boomer generation and feel it was easier in those days to land a job after graduating college. And according to our survey results, they're right. 55% of Baby Boomers report having had an easy job search right out of college. Only 9% of Millennials say the same, with 69% believing it's difficult to find work.
The Boomer earlier generations grew into adulthood around industries that were expanding rapidly, especially automotive and industrial manufacturing but also health care, telecommunications, and engineering. It was a time when work was sourced locally, not outsourced overseas as outsourcing came decades later (80's – 90's). It was also a time when legacies and entry-level apprenticeship could get you into a job even without a college degree.
But was it really easier? Unemployment rates in the 1960s and '70s were just over 5% and crept as high as 9% in the early '80s.
What we see now is a shift from an industrial boom to a digital expansion, with a greater need for tech-based careers and education. With the ease at which higher education can be obtained (though at a cost) and the growing use of outsourced remote work, Millennials do face a lot of competition.
Is Your Employer as Devoted to You?
In recent years, there's been a gradual shift toward greater investments in the workforce. Arguably the cause for such investment has to do with the younger generation's tendency to change jobs. Employers want to retain top talent, as well as lure talent away from other organizations.
More and more companies are working to achieve that by expanding their offerings to include things like free food and drink, extended vacation time, free technology, company outings, expense accounts, tuition reimbursement and continuing education, leisure activities, and entertainment in the workspace.
Still, some 18% of respondents don't feel confident that an employer will take care of them. This may stem from large organizations (Google, Zappos, Nordstrom, etc.) publicly making these investments while many companies haven't made the move to invest in their workers beyond standard compensation and benefits packages.
There is also sentiment among some employers or members of leadership who believe Millennials carry a sense of entitlement. This belief, held by some, could potentially result in business owners or decision makers withholding additional compensation or investment.
Is a Degree Necessary?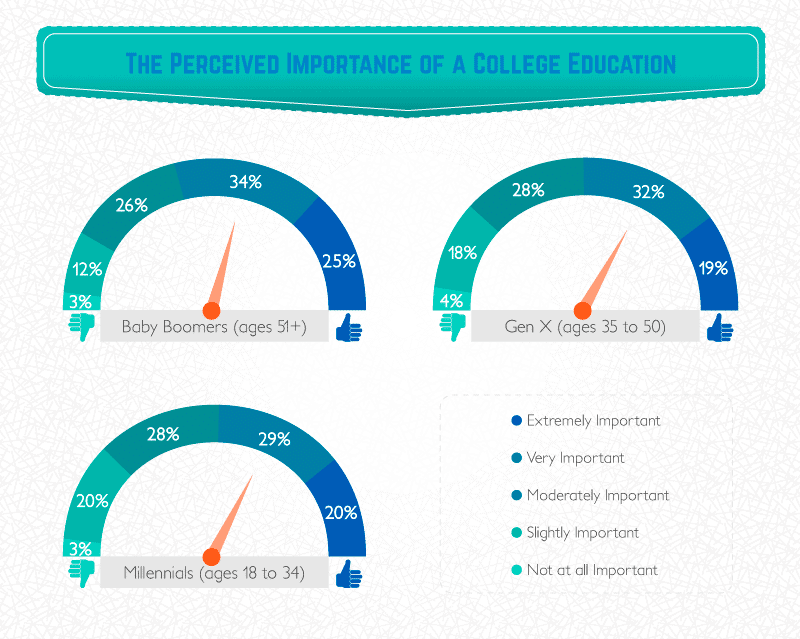 The Higher Education Act signed in 1965 brought about a large volume of grants and free education for many Boomers. Over the last 50 years, the number of grants has dramatically decreased. In 1980, more than half of financial aid dollars were in the form of grants. Today, grants make up only about 30% of federal dollars. With the cost of tuition rising, many young people are finding it difficult to afford a higher education.
Thankfully, a growing number of employers today recognize that a degree isn't always necessary. Technology has allowed people of all ages to self-teach and learn through direct experience in a variety of fields including programming, engineering, marketing, business administration, and more.
While employers still favor a college degree – which shows a prospective employee's devotion and skill within a specific career track – many jobs are listed with modifiers along the lines of "X degree or equivalent work/field experience."
Would You Use a Social Network to Find Employment?
We have technology at our fingertips. We skip songs on playlists halfway through, we switch between apps and browser tabs quickly, and we bounce between mobile devices as we tap into the multitude of social networks we belong to.
The adoption of technology is one way Millennials (and even older generations) can have a distinct advantage in the job search. 58% of respondents said they were likely or very likely to use social media as a job search resource. That gives them a leg up over others competing to land similar jobs.
The number of companies relying on traditional methods for finding talent (job boards, newspaper listings, recruiters) is dwindling, and social media is the main reason. Not only do companies post job openings on their own business pages within sites like Facebook, but they reach out to their networks on Twitter in search of talent.
LinkedIn, a networking site for professionals and B2B, is one of the top sources for finding career opportunities as more than 35% of candidates prefer the social site over traditional methods according to one study. It's the one social media site that has given companies unprecedented access to both passive and active job candidates, essentially changing the traditional recruitment and job-post process permanently.
Perceptions of Employment Opportunities
Conclusion
By and large, the job market is changing. Technology has not only had a profound impact on the types of careers available as new industries emerge, but also on how people educate themselves and find new career opportunities.
With a global network and remote opportunities, the competition can be stiff as candidates search for just the right place to call home. But that is also inspiring employers to invest more in their employees and expand offerings in hopes of acquiring talent while reducing employee churn.
Education is certainly still an important factor in standing out among other applicants. However, employers are beginning to recognize that the top talent they're looking for doesn't always come with a degree attached, and more employers are willing to look at the overall value of a candidate beyond just the college education, regardless of age.
Methodology
We surveyed 2,059 U.S. residents on their perceptions of employment and the job search process. Generational age ranges were defined by the 2016 U.S. Census Bureau.
Sources
Other related links
Fair Use
The graphics and information on this page are available for you to republish. We request that if you do so, that you please link back to our page so that our authors may be recognized and so that the complete information and methodology is available to your audience.